As a full-service bathroom remodeling company, we take bathroom renovations to the next level. Owner Dan Grondin will be on site for your bathroom remodeling project. When it comes to getting a bathroom right it's all about the details. In today's trending market, we have the luxury of having a huge selection of colors, materials and styles to design your personal oasis. This means paying attention to ensuring you will be happy with the finished product. Let Grondin Builders Design/Build team give you the bathroom of your dreams.
Bath remodels are among our most popular and sought-after services. This is partly because they are the rooms that will yield the most positive results in your home, providing immediate and dramatic improvements to daily routines, your satisfaction with your home, and its overall value.  
But another reason why so many homeowners seek us out to help transform their bathrooms is because word of our expertise in these areas has already reached them from our many highly satisfied customers, and convinced them to trust Grondin Builders with remodeling these all-important spaces.
We can work with either stock cabinets, semi-custom, and custom cabinetry. Although, we prefer to work with Custom Cabinetry because it lasts longer, uses better quality of materials (solid wood), and they are custom do your needs and your particular space.
If what you are looking for is not on this list, just give us a call or complete our online inquiry form to get more information about the specific type of remodeling project you have in mind.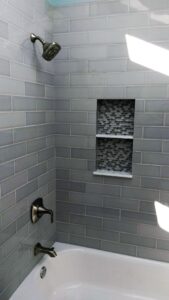 Request a Bathroom Remodeling Quote
For a free quote or more information about how we can help you renovate your bathroom using the latest materials, techniques and design trends, please click here to complete our online quote request form. If you prefer to get in touch with us by phone the number is 860-454-4602. Whichever way you contact us, we will do our best to reply quickly with the information you need.
All * Fields are required.